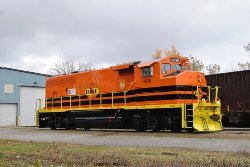 Welcome to the RRPictureArchives.NET contributor site of Patrick Caauwe.



Welcome, My name is Patrick And I am the owner of the MSN group deticated to the Lake State Railway. Within my albums, you'll find pictures from my trips and daily living. These pictures are generally from Michigan, but also include Ohio and Indiana, and hopefully will include other places such as North Carolina and Texas and Illinois. I don't get to upload pictures very often as i'm very busy, but I hope everyone enjoys the ones I have.

Thanks For taking the time to look,

Patrick

Owner: http://groups.msn.com/LakeStateRailway/cityof.msnw

Editor/Moderator: http://groups.yahoo.com/group/HuronandEasternRailffan/



You may browse my collection of pictures via the menu located on the left hand side of the page. I hope you enjoy the collection and thanks for stopping by!
Note: This site is best viewed in Internet Explorer 6.0 or above.
Select one of the links from the menu on the left to begin browsing the collection.